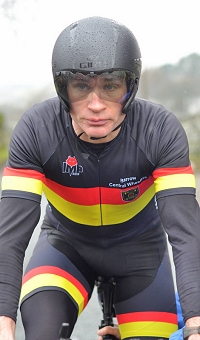 Col McKenna takes on the Tommy Godwin Challenge
At the start of 2014, Raleigh announced the Tommy Godwin Challenge. For those who don't know about the man, see the excellent Tommy Godwin website here, and marvel at his record.
The Raleigh challenge was a simple one, to complete an average Tommy Godwin day in the saddle. The problem is, that's a very respectable 205 miles to ride.
Club rider Colin McKenna decided he'd take on the challenge, and here's his take on how the day went!
Thanks to Col for the write-up.

---
Earlier this year Glenn Rhodes mentioned at the AGM about some of the lads wanting to do a bike ride to commemorate 75 years since Tommy Godwin set the mileage record for the highest number of miles cycled in a calendar year.
Sounds like a good idea I thought. How far do you have to cycle? Well good old Tommy managed to cycle 75,065 miles in a year, that was in 1939! That equates to 205 miles every day for one year. At our club dinner a couple of years previous Dave Barter gave a talk on the subject as he has researched the history of the annual mileage record.
Various routes were talked about and best times to do it. The long days of summer seemed to be the best time for an epic such as this. Our Lakes RC friend Howie Lindow was one of the lads interested in having a go at the "Tommy". Now if you know Howie, you know he is always up for a challenge, and it would be fair to say in his case, the madder and tougher the better (such as riding The Fred Whitton route on a fixie). Doesn't get much madder than that.
Anyway talk of the challenge died down, until a few weeks ago we got a text off Howie. "Done the Tommy. 206 miles. Bolloxed."
I was stunned the cheeky little blighter had stole a march on us and gone off on his own and ridden the Tour de Furness circuit 4 times. Not only that, the day he rode it on was abysmal. Over 12 hours riding time and only 3 hours without rain. Riding it solo, with a pie stop and change of clothes every circuit. Respect.
So that was it. The Tommy had to be done and the sooner the better. I knew if I thought about it for too long, the realisation of it would set in and it would become harder to motivate myself to do it. I ran it past Glenn that I was thinking of having a go at it on the weekend of the 22/23 March. It was a free weekend from SPOCO's and other events, and I was also on the backshift at work the following week so I could have a bit of recovery the next morning.
Saturday was spent faffing about with which bike to use. Decided on the Kinesis Cross Light cyclocross bike, fitted with 28mm road tyres and a 48/34 chain ring. Thought this bike would suit as it is comfy for long rides, soaks up the bumps well and the gearing is handy for round the Lakes.
The route was very vague to say the least. I was going to set off around 6am, head off for a few hours round the Coast Road, some circuits of Leece, go and meet Allan and Kon at about 9:30am, head off up to Grasmere for a coffee and cake at the café then back to Ulverston and play it by ear.
Glenn had given me some advice on the Friday along the lines of "it's a 20mph north westerly wind, it might be best doing it when it's not as windy." In one ear, out the other. I'm doing it whatever…. With hindsight it might have been worth listening to him.
So, the bike was ready, kit was laid out, 3 peanut butter and jam sandwiches wrapped in tin foil, (was 4 but the dog ate one!), 3 caramel bars and a 1 litre bidon of energy drink. Front and rear lights. Sorted.
Rolled out 6:10am. Nice time to start as that's the time I head off for work on days. Down to Barrow, Roose to Rampside flying. This is great I'm thinking. Turn left from the Coast Road up towards Leece. Wallop, block headwind. A 10-12mph grind back to Roose. I did 3 laps of that circuit then went up the Coast Road back to Ulverston to meet up with Allan and Kon. By the time I'd got to Kon's I had 52 miles in the bag, at a very respectable 18mph average.
Got to Kon's and had a cuppa and a sandwich, then set off for Grasmere. The wind was not as noticeable when we got up around the lake. The sun was out and it felt quite warm. Coffe and cake in Grasmere 80 miles in the bag at a whisker under 17mph average. Felt good and strong at this point and even had a notion of riding for 250 miles. (ha!) We came back through Elterwater and hit the first century along the shores of Coniston. On getting back to Kon's another cup of tea, sarnie and fruit cake, filled the bidon up and off down the lanes for a lap of the Coast Rd.
By the time I was coming up to Ulverston again I was starting to chug water like it was going out of fashion. I had the idea that I was going to carry on up round the lake and then do the remaining miles closer to home. As I was passing close to Glenn's I thought I'd call in for a brew and a water refill. By this time I had done 130 plus miles and was starting to feel it. Glen, who was having an "easy" weekend had just got back from a tootle round the lanes with his good lady. Still in his cycling kit, he offered to come round the lake with me for a bit of company. I was only too glad to have him along to keep my mind off the remaining miles.
I was still feeling ok as we came out of Coniston, then the 'battery is low' warning came up on the Garmin…. and me at the same time! The Garmin was showing 147miles, so Glenn zeroed his computer in case mine died a death. I knew something was wrong with me as I couldn't remember the number of miles that I had to add to Glenn's computer if mine failed totally. I was starting to ride with a foggy head.
The man with the big hammer was well and truly banging me over the head. I remember saying to Glenn "I don't want to think about how many miles are left", so 30 seconds later it was a great comfort when Glenn, like the good mate he is, said "I know you don't want to know how far's left, and I'm not going to say….. but you've still got 58 miles to do". Thanks for pointing that out mate.
As we got closer to Ulverston I cannot describe how tired I was feeling. My house is at Rosside. From the town centre it is ¾ of a mile and uphill by about 90 m. Climbing that hill took all my energy and resolve. All I could think about was going to sleep.
As I walked thru the door I got a cheer and a well done from my family. Then I told them I'd only done 161 miles, there was still 45 to go. It's a good job Glenn was with me as I think I would have just sat down by the side of the road. That was physically the hardest part of the challenge. The next challenge was a mental one. I had to get myself into some sort of shape and get back out onto the road.
I knew I had to have some fluid. Sleep, some food and some coffee wouldn't be a bad idea. Fluid came in the form of 3 pints of milk one after the other, I couldn't stop drinking it. Then I went for a kip, woke up, had a bowl of porridge and a big mug of coffee. Now all I had to do was get some dry kit on, full reflective gear and lights as it was dark.
As I was getting ready my family just looked at me as if I was insane. To be honest I felt like I was insane. Here I was a man closer to 50 than 40. Getting ready to go and do a 45 mile bike ride in the dark, temperature dropping close to freezing, after already having done 161 miles that day….anyway after telling myself to stop being such a wuss I was on my way again.
The plan now was to stay fairly close to home in case the man with the hammer came out to play again. So with this in mind I was going to ride between the Booths roundabout and the new Greenodd roundabout. About a 7 or 8 mile loop which I new I could sit comfortably at 18-20 mph. Easy.
The A590 is a busy road in the daytime; it's just as busy at 8pm on a Sunday night. I managed 2 laps before saying to myself that I only needed to be clipped by one of those articulated lorries and it was all over. Second time round I shot off down the canal to reacquaint myself with the Coast Road. The only good thing I can say about being out at that time was that the wind had died down slightly. It was freezing cold, my hands had no feeling and my face was frozen.
The miles now seemed to be going up ever so slowly. As I reached 180 miles I was looking for positives to keep me going. 25 miles to go "I've done a 25 in 55 mins"… "well you're not going to do that tonight"… so that didn't really help much. Down to Barrow back up the main road to Ulverston. Working out the maths as I was going along I new I would still have 5 or 6 miles to get in. So I nipped back down the canal then did a few laps of North Lonsdale Road and Morecambe Road.
I'm glad old Tommy wasn't totally insane and his average daily mileage was 205, because if it was up around the 220-230 mark I would have jacked in after 200miles. Anyway heading into my third century of the day I knew it was in the bag. As the computer notched up the 205 miles, the fist went into the air and a big grin split my frozen face. If any one saw me they would have wondered what that nutter was up to. By the time I'd climbed the hill up to my house, I had just shy of 207 miles on the clock, with an average just under 17mph. 12hrs 17min riding time. Back in the house at 10.10pm.
IN THE BAG!
Would I do it again? No……well not for a while.
Would I be able to do it every day for a year? No (Old Tommy carried on doing it until he had 100,000 miles in the bag, in 500 days).
It's for a good reason the Guinness Book of Records will not recognise the yearly mileage record on safety grounds.
Tips if you want to have a go:

1. Do it in the summer with long days and good weather.
2. Think carefully about a route. Lot of merit in a 50 mile circuit.
3. Have a good break every 50 miles.
4. Do it with someone else. The 90 miles I had company for flew by. The 116 on my own were hard work.
5. Use a comfy bike.
Col Mckenna