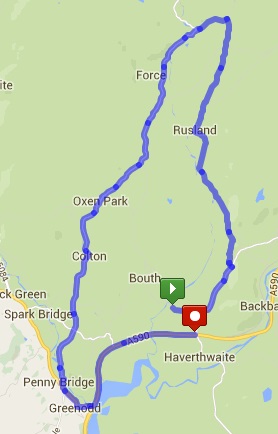 Course: Circuit of Rusland
Length: 14 miles
Ascent: 278m
Records
Date
Time
Rider
Club
Course record
25-Apr-2018
32:50
Dave Huck
BCW
Club record
25-Apr-2018
32:50
Dave Huck
Ladies Course record
20-Apr-2022
36:16
Christina Wiejak
BCW
Ladies Club record
20-Apr-2022
36:16
Christina Wiejak
Start/Finish: The Causeway (Bouth)
Course HQ: Old Road - Haverthwaite Crosroads
Start on The Causeway facing Eastwards on an unnamed road behind the A590 at the point where two gates are opposite (Telegraph pole 7C).
After 1.2 miles stay on the route by taking a sharp left turn and then head north through Rusland Valley.
Stay on the road until after Thwaite Head Farm and turn left after cresting the hill at the junction signposted Satterthwaite/Grizedale/Hawkshead (5 miles).
Continue in a south-westerly direction for 0.5 miles and take a left turn at the junction at Force Forge.
Continue over Force Beck bridge onto Oxen Park over to Penny Bridge until it meets the A5092 at Penny Bridge (11.5 miles).
Turn left and proceed along the A5092 towards the roundabout at Greenodd (12 miles).
Take the first exit onto the A590 and finish at the Haverthwaite 10 course finish (mile post marker 18/2 by drainage grate approximately 40 yards from Haverthwaite crossroads, B5278).