Course: Haverthwaite 20
Length: 20 miles
Ascent: 372m
Records
Date
Time
Rider
Club
Course record
24-Jul-2019
41:41
Kieran Lacey
BCW
Club record
24-Jul-2019
41:41
Kieran Lacey
Ladies Course record
25-Jul-2018
50:25
Alex Fairer
BCW
Ladies Club record
25-Jul-2018
50:25
Alex Fairer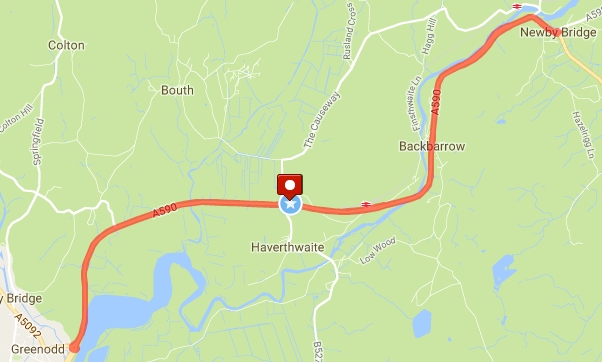 Start/Finish: Haverthwaite Crossroads
Course HQ: Old Road - Haverthwaite Crosroads
Start in lay-by on the Newby Bridge (east) side of Haverthwaite Cross Roads on the A590.
Proceed west and encircle Greenodd roundabout (third exit) and return to Newby Bridge roundabout.
Encircle back at Newby Bridge roundabout (3rd exit) and proceed past the start on A590 and encircle Greenodd roundabout again (3rd exit again).
Return in an eastward direction to Newby Bridge Roundabout and encircle (3rd exit) on to the A590 to return to the start.
The finish is the same lay-by as the start (20 miles).