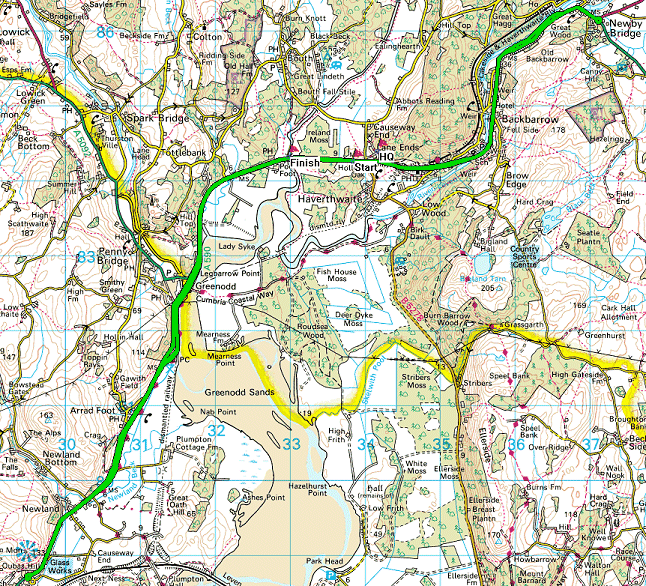 Course: Haverthwaite
Length: 25 miles
Ascent: 450m
Records
Date
Time
Rider
Club
Course record
18-Jul-2007
00:52:31
Paul O'Mahoney
ProBikeKit
Club record
04-Aug-2021
00:52:40
Dave Huck
Ladies Course record
10-Jul-2019
00:56:44
Christina Wiejak
BCW
Ladies Club record
10-Jul-2019
00:56:44
Christina Wiejak
Start: Haverthwaite Cross Roads
Finish: Pool Foot bridge
Course HQ: Old Road - Haverthwaite Cross Roads
Start at west side of entrance to field gate on west bound side of the A590 approximately 400 yards west of crossroads with B5278 (Haverthwaite).
Proceed west and south on A590 via Greenodd roundabout to Booths roundabout on the outskirt of Ulverston (4.86m)
Encircle roundabout and retrace via Greenodd roundabout and past start. Continue on A590 to Newby Bridge roundabout (12.75m).
Encircle roundabout and retrace past the start (15.78m) and via Greenodd roundabout to turn at Booths roundabout for a second time (20.62m).
Retrace on A590 to finish at Pool Foot on west side of bridge at start of parapet and concrete walkway (25.03m).