Course: Coast Road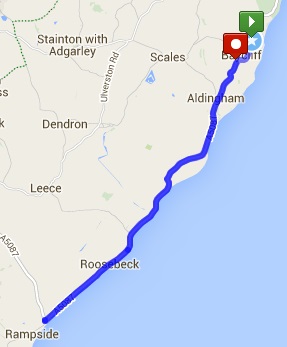 Length: 10 miles
Ascent: 110m
Records
Date
Time
Rider
Club
Course record
29-Jul-2020
21:10
Ben Granger
Kendal CC
Club record
31-May-2017
21:42
Dave Huck
Ladies Course record
29-Jul-2020
24:01
Christina Wiejak
Team Jadan CycleSpace
Ladies Club record
29-Jul-2020
24:01
Christina Wiejak
Start/Finish: Baycliff (Just up from the Fishermans Arms) (A5087)
Course HQ: Layby at top of hill (Ulverston side of Fishermans Arms) - Baycliff.
No cars to be parked in the Fishermans Arms car park.
Start just before the Fishermans Arms heading toward Rampside. Up to HillCrest, down to Aldingham on past Newbiggin to Rampside roundabout (5 miles).
Return on the same route.
Finish opposite start.